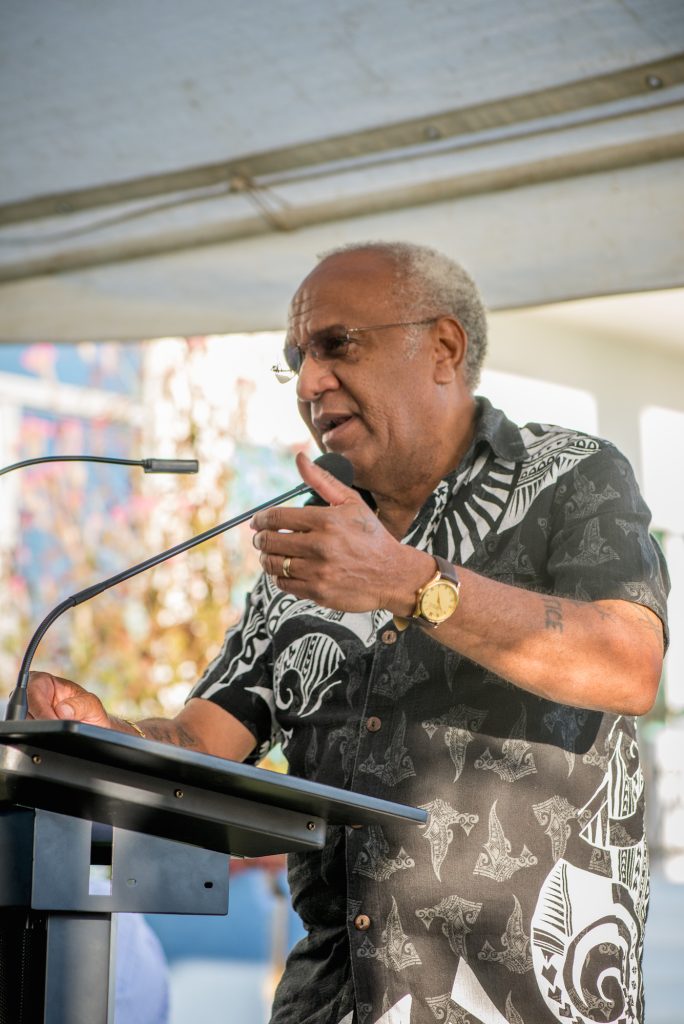 I first began to worry about the future of journalism in Vanuatu back in 2011, when Marc Neil-Jones was attacked in his office at the Daily Post by a minister of state and others.
At the time, I quoted him: "'I've been deported, jailed and beaten up before. This isn't the worst I've seen.'
"'I am getting a bit old for this, though,' he added wryly."
Marc will be retiring at the end of this year, and I will be taking his place.
The largest part of my job will be preserving and protecting the legacy of the institution that Marc has built in the face of significant adversity.
Inside the newsroom at the Daily Post are reporters who have worked their beat since before independence. They are storied, wise and, surprisingly, not a bit jaded by their decades of service.
When I was being interviewed for the position of media director, I said that I felt that we had moved on from 2011. I felt that using the threat of violence to intimidate the media was no longer in the cards.
It was gratifying, therefore, to meet with the prime minister and several senior ministers of state to discuss the state of the media on Monday.
It was a frank exchange, to say the least. Some of the criticisms directed at the media were on target, some less so. We are happy to face up to criticism and to take it on the chin when it's merited.
But the purpose of this column is not to litigate the accusations in detail.
There were two statements, however, that must be answered, and I respond to them on behalf of the management and staff of the Daily Post and Buzz FM 96.
First, we do not play politics in our reporting. The Daily Post has always been scrupulously non-partisan, and I personally pledge to uphold this tradition. It may seem to some politicians and public figures that they are being treated unfairly. If they feel that way, they should contact me directly at 55 44 602, or write to dan@dailypost.vu.
Second, we uphold the right of reply as fundamental to the practice of journalism. But we will not—we cannot—hold every story until every last comment has been gathered. In many cases, the public interest is better served by publishing the facts as they stand at the moment.
In this age of social media, stories can break at any hour, day or night; they don't package themselves neatly into single slices to be served every evening at 7:00.
When details begin to surface, piecemeal and often clouded by conjecture, the public interest is better served by publishing what facts are known to be true at the time.
This anchors the conversation in reality, and provides politicians and commentators alike with specific details to hang their comments on.
Waiting another day for someone to compose a reply—or in some cases, simply to respond—is not always an option.
Vanuatu is learning to conduct a new kind of national discourse. The quality of our social media is rough and ready, to be generous. We are re-learning the lessons of public etiquette and respectful disagreement. It is essential to have authoritative sources informing these debates.
That said, we are not in the habit of gaming this system, of blasting one side on the front page and hiding the reply in the back pages. We may not match front page for front page, but I offer my personal assurance that every response will receive the prominence it merits, on balance with the news of the day.
I confess I have already spent several sleepless nights worrying about the precise way to approach certain stories. I expect to spend a few more.
But I do not ever again want to worry about my personal safety, or that of my staff or our families.
The deputy prime minister yesterday spoke about lines that should not be crossed. Fair enough. Well, violence and threats—against the media, or against any public figure—is one line that we as a nation have to foreswear unequivocally.
There are laws in place concerning threats, vilification and incitement to violence or hatred. Every single one of us must learn to respect those laws or to accept the consequences.
Mr Kilman has taken a historic step in engaging openly and frankly with the media. We are gratified by the respect he has shown the fourth estate. Clearly he has listened to our proposals and taken some of them to heart.
As the prime minister astutely observed, no one present on Monday—not a single person—spoke against media freedom.
We applaud this reasoned, nuanced approach to improving media in the country, and we look forward to further engagement.
For our part, we will continue to report in good faith, in the public interest, without fear or favour.